The best way to reach Ladakh is by air. The nearest airport is Leh which is 3.8km away from the city center. The nearest railway station is Jammu Tawi which is 700km away. You need to take a bus or a cab from there to reach Ladakh. If you do plan to come by your bike to Ladakh, the roadway is through Manali which is 494km away, and Srinagar which is 434km away.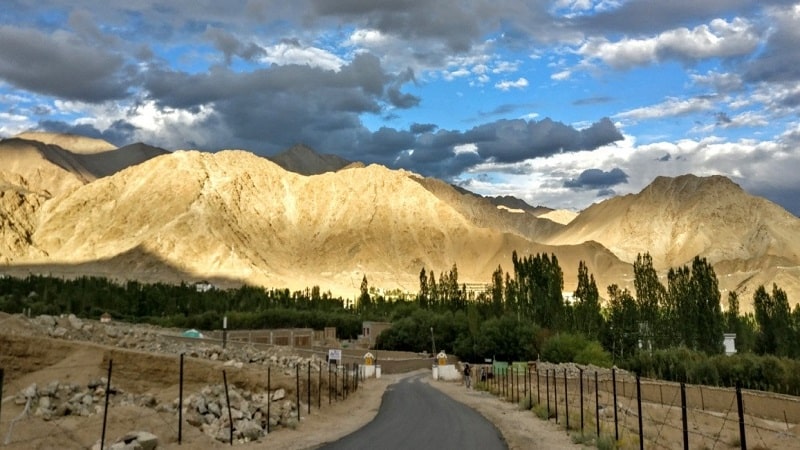 A beautiful landscape of Ladakh
The ideal time to visit is April to July since the weather is pleasant at 15-30 degrees. The winter season starts from October till March, it is extremely cold with temperatures going as low as -15 degrees. During winter, the frozen river trek on the Zanskar River takes place. It is best to avoid Ladakh during the rains as there as several landslides and most of the roads are closed.
Before heading to Ladakh, there are a few things you should remember to do and carry with you. If you have a history of motion sickness, it is ideal to consult your doctor for medication before going. Always carry a medical or first aid kit with all the medicines in one place for easy access. I suggest https://amzn.to/3LnbZ5o
A fleece jacket along with other woolens are highly recommended to help with the cold chilly air.
Also, don't forget to carry a beanie to wear while traveling to protect your head from the cold. I recommend https://amzn.to/3G41W4p
Ladakh is not a place where you can just pack your bags and take off to. It is always better to plan your trip properly to avoid disappointments. Ladakh is known for its high altitude, so anyone traveling above 10,000 feet will find it difficult to breathe and require rest. Take a day to acclimatize and give your body some time. Once you are ready to explore, there is a lot in store.
Khardungla Pass is located at 18000 feet above sea level and is the highest motorable road in the world, and is open from 9am to 5pm. Prepare yourself to be greeted by stunning blue skies, unreal views, and plenty of tourists. Due to the high altitudes, there is a higher chance of getting mountain sickness and hence it is advisable to keep oxygen handy. You are required to possess an Inner Line Permit (ILP) to visit the place.
Khardungla pass is a gateway to Nubra Valley. It is much lower in altitude, and hence breathing is better here. If you have an adventurous side like me, there is river rafting and ATV rides to enjoy. I also enjoyed rides on the two-humped Bactrian camel which can be found only here. Nubra valley is also called the orchard of Ladakh. The famous Siachen glacier trek is to the north of the valley, which is the highest and coldest battlefield in the world. It is an extremely challenging trek due to severe temperatures and very low levels of oxygen.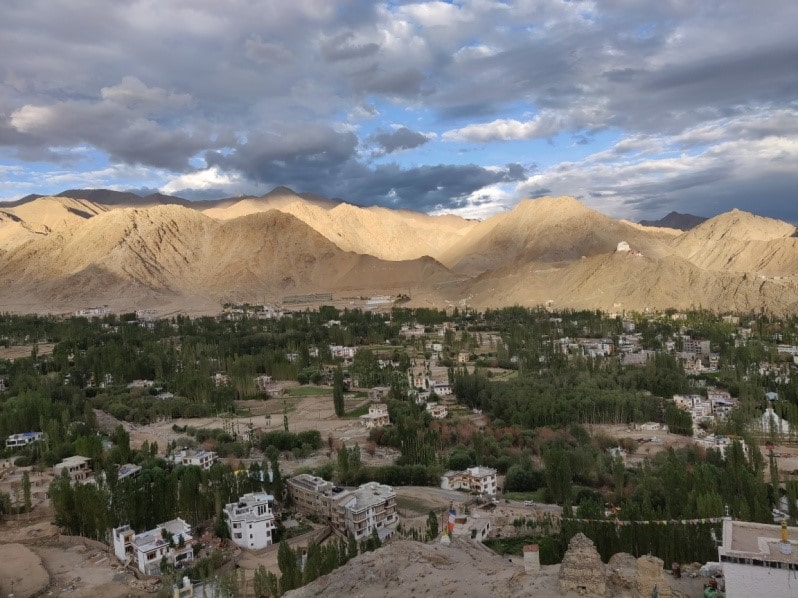 Bird's eye view of the town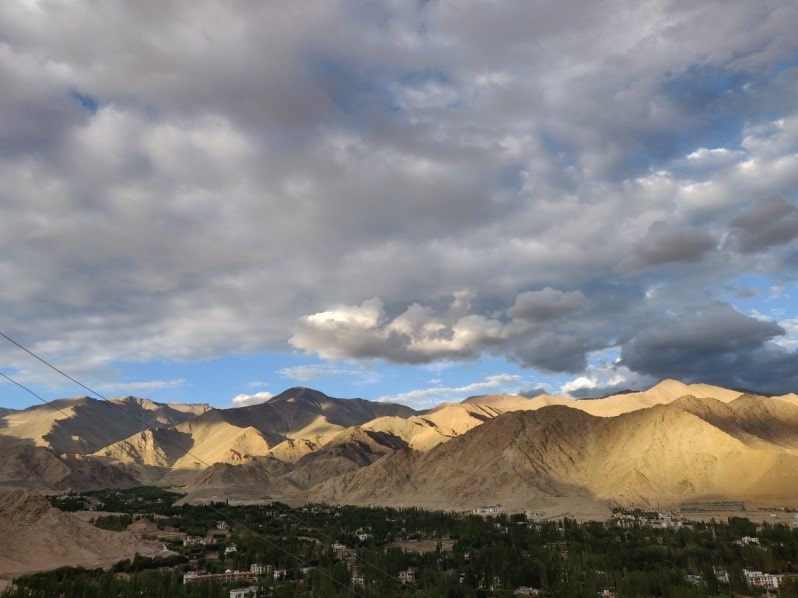 Beautiful nubra valley with the backdrop of the mountains
Nubra valley is known for its monasteries. I visited the famous Disket Monastery which is the oldest and largest Buddhist monastery and has a 106 feet tall Buddha statue on one side and steps leading up to the old temple and monastery. Above the monastery is the Lachung temple which houses the idol of Tsong Khapa who is considered to be the founder of the Gelugpa sect of Buddhism. It is located on the banks of the Shyok River and has mesmerizing views of the village and surrounding areas. I instantly felt a feeling of peace from within when I was here.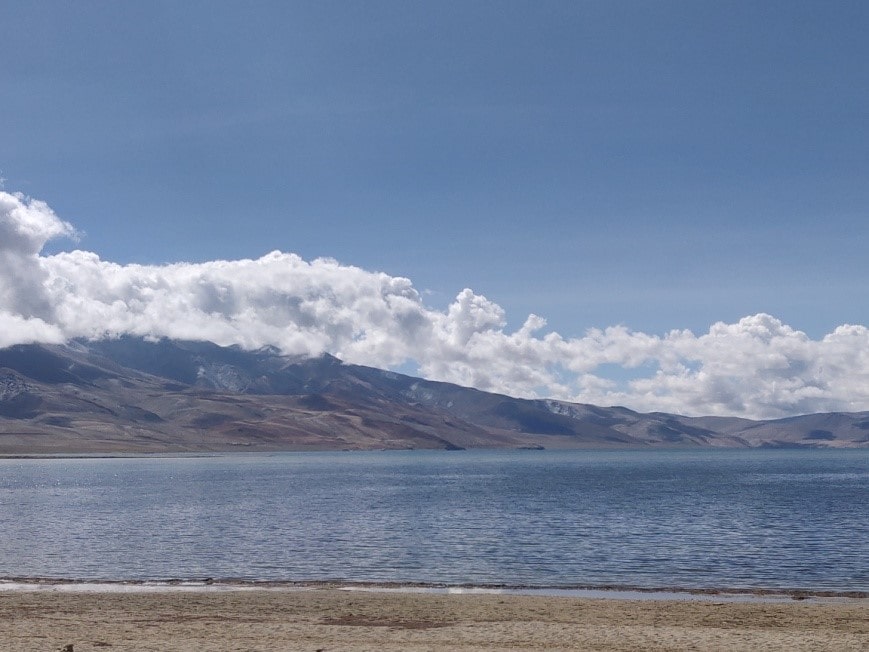 Beautiful Pangong Lake
Pangong Lake is another must-visit place in Ladakh. It is situated at a height of 14000 feet, the water is crystal clear. It is the highest lake in the world which has saline water. However, do not take a dip in the lake as the water is too cold. I would suggest visiting during the first half of the day as evenings get very chilled with the cool breeze blowing. Once you reach the lake, it feels like it is all a dream. The water is said to change color with all shades of blue to green to red. The lake also freezes completely during winter. This place made me admire nature and its beauty so much.
Hemis National Park is a fairly popular tourist attraction. It is known for its snow leopards and a variety of birds. The timings are from 9am to 5pm and there is a nominal fee for tourists to enter the park. This place is a treat for nature lovers and photographers as well. Beautiful mountains and tall trees in a pollution-free environment make it worth the visit.
Overall, I would say Ladakh is a must-visit once in a lifetime place. It is beauty beyond words and a place that can be enjoyed only with your eyes.