DARJEELING: BEAUTY AND TEA
Darjeeling is fondly known as the 'Queen of Hills', situated in the northern part of West Bengal, India. It has over 4000+ species of plants and an abundance of wildlife. Darjeeling is a scenic Townley of West Bengal. Darjeeling's Tea is World-renowned because of its aroma and deliciousness. Some of the finest teas in the world are from Darjeeling.
This article will give you a comprehensive guide to the city of Darjeeling, the places you can visit and things you can do there.
HOW TO REACH THIS PARADISE?
You can take both Airways and Roadways to reach Darjeeling. The nearest railway station is New Jalpaiguri. You have to take a cab from there, a 4-5 hour-long ride. The flight takes around 1 hour and 20 minutes to reach Darjeeling from Kolkata. There is no Direct Flight. The nearest airport is Bagdogra, and it takes about 2-3 hours to reach Darjeeling from the Airport.
PLACES TO VISIT IN DARJEELING:
TIGER HILL: LOCATED 25.6 KM FROM DARJEELING
Tiger hill is a perfect medley of beauty, warmness, and chills. The place is ideal for people to enjoy the sunrise. The highest point of this hill is the summit of Ghoom, from where you can see Mount Everest and Mount Kanchenjunga. This complete view gives bliss to your soul that you can cherish for a lifetime. If you enjoy the beauty of height, you must go and check out this beautiful hill. October to December and February to April are the best time of the year to see the mountain top covered with snow.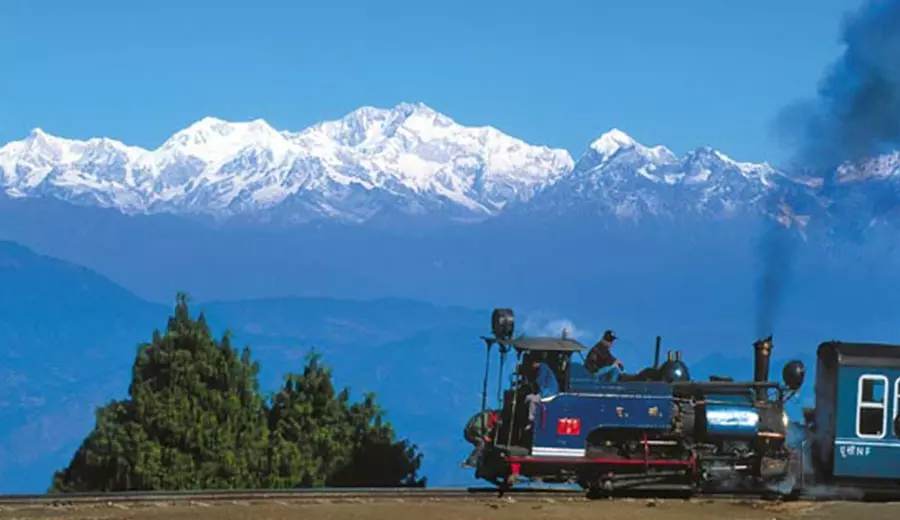 DARJEELING HIMALAYAN RAILWAY: LOCATED 38.4 KM FROM DARJEELING
Darjeeling Himalayan Railway is an 88-km long railway track, predominantly known for its toy train. It is a 2 feet narrow gauge train track that spreads from Jalpaiguri to Darjeeling. It got its 'Heritage Site' tag from UNESCO in 1999. There is a fee of Rs INR 600 for diesel and INR 1000 for the steam engine ride.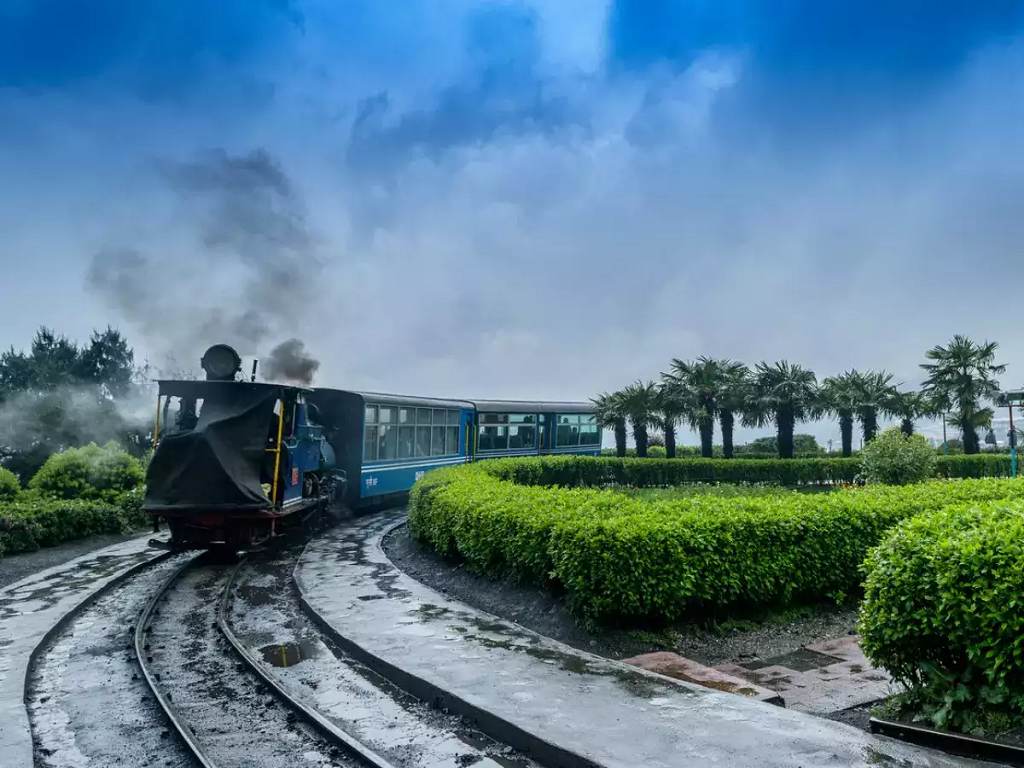 SANDAKPHU TREK: LOCATED 75.3 KM FROM DARJEELING
Sandakphu is situated at a height of 11,929 feet. It is the highest peak in West Bengal. The trekking route to Sandakphu is very close to Singalila National Park. You can witness the elegance of the Himalayan Mountain from here. During this 51 Km long Trek, you will spot so many captivating views, starting from Manebhanjan to the top of the hill. One more forte about this place is the abundantly grown Exotic Himalayan Cobra Lily plants.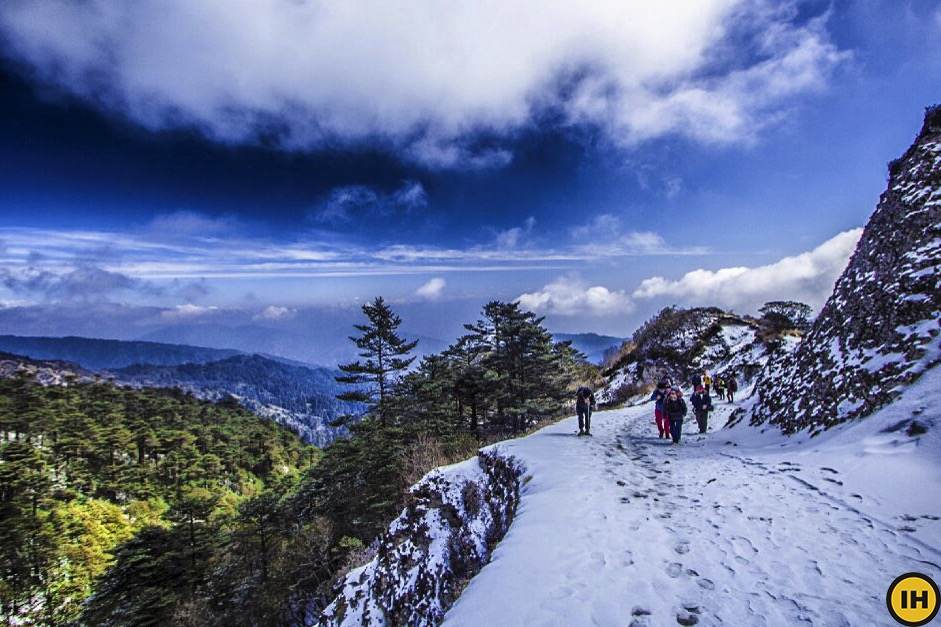 Image Source: indiahikes.com
BATASIA LOOP: LOCATED 4.4 KM FROM DARJEELING
Batasia Loop is a Memorial Park near Ghoom, 5 km away from Darjeeling. It has a spiral toy train pathway covered with greenery all around. The rationale behind this pathway is to minimise the elevation of the Himalayan railway. In honour of the sacrifice of Gurkha soldiers, there is also a War Memorial inside the park. A Leafage surrounded tunnel, toy train, and shops make everything astounding about this place which is why Batasia Loop is one of the best locations to visit in Darjeeling. There is an Eco garden, from where you will get information about Organic farming. It is preferred to see the beauty of this place after you have darted at the sunrise of Tiger hill.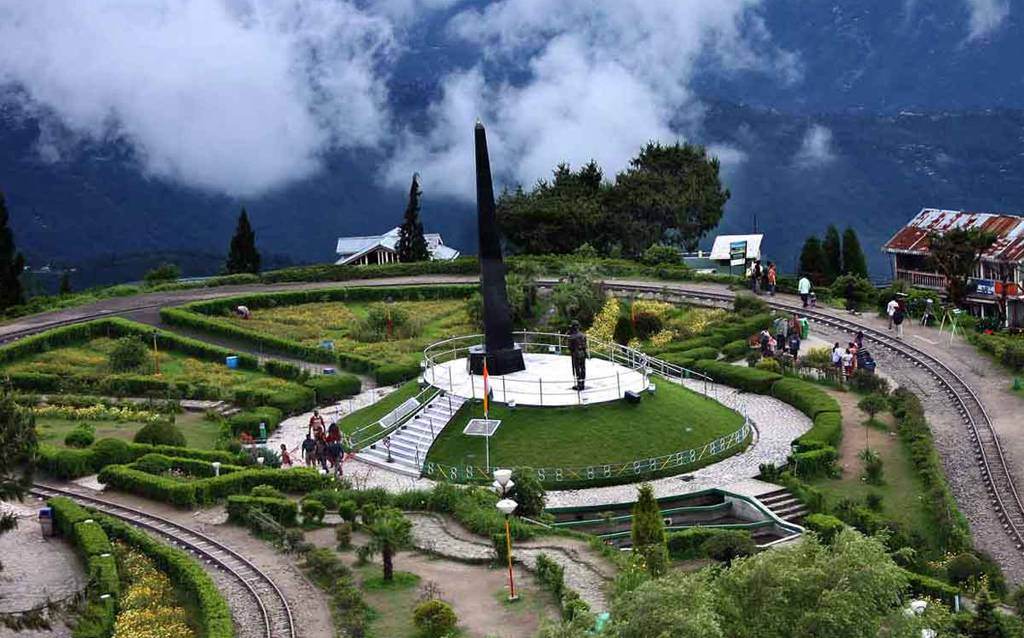 DARJEELING ROPEWAY: LOCATED 3.4 KM VIA DARJEELING
One can witness the beauty of Darjeeling through the ropeway. It uplifts at an altitude of 7000 feet, with the capacity of 6 persons at a time. During this 45 minutes ropeway ride, you can catch the verdure, snow-capped peaks, waterfalls, and tea estates. From the north point in Singamari to the Singla Bazaar, the travel in ropeway is nothing but a cosmic ride. The timing of this magnificent ride in winter-monsoon is from 10 AM to 4 PM, and in summer-autumn is from 10 AM to 2 PM.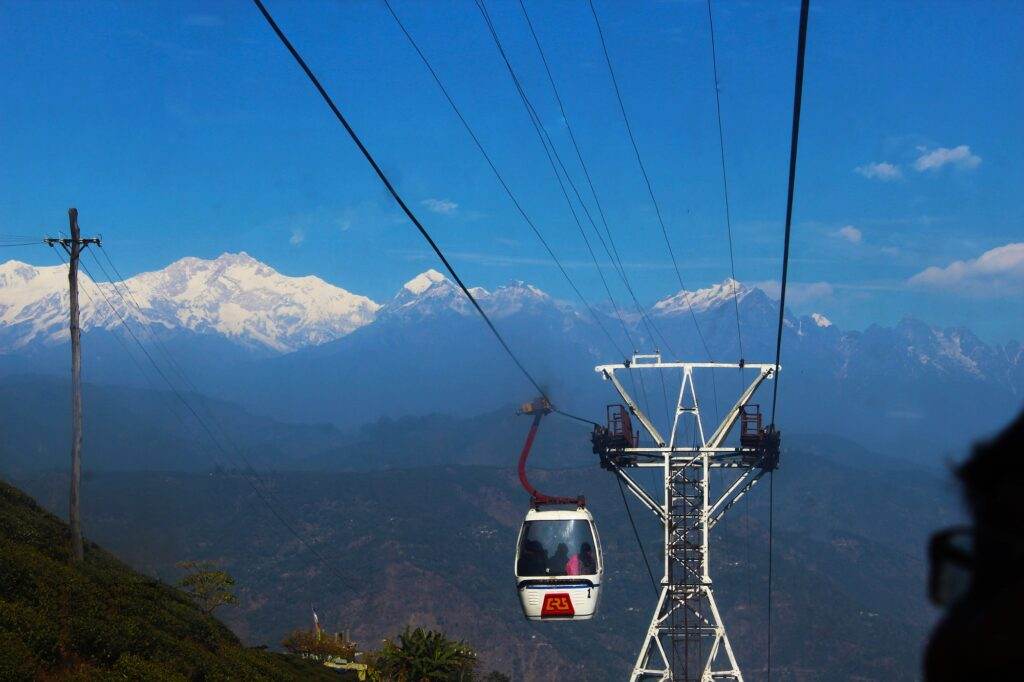 Image Source: dargeelingtourism.in
NIGHTINGALE PARK: LOCATED 1.7 KM FROM DARJEELING
'Nightingale Park is a public park that is a centre of attraction for tourists. It was known as 'The Shrubbery' during the British period. This park is famous because of the magnificent view of Kanchenjunga. The highlight of this park is the Giant Statue of Lord Shiva. Not just the statue; it also has a musical fountain that makes the environment exquisite. It is open for the whole week from 7 AM to 8 PM. The entry fee is INR 10 only.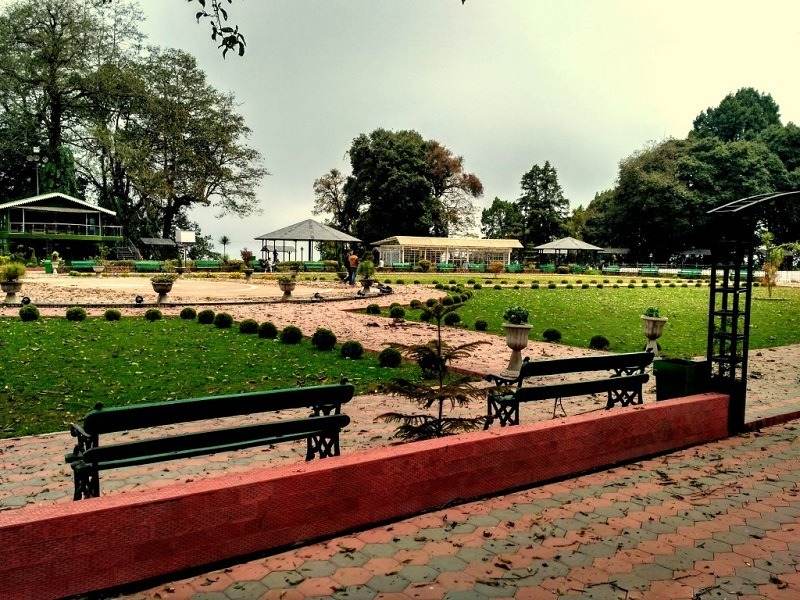 PADMAJA NAIDU HIMALAYAN ZOOLOGICAL PARK: LOCATED 2.2 KM FROM DARJEELING
The Zoo got this name from Indira Gandhi to honour Padmaja Naidu, the ex-Governor of West Bengal. It is commonly known as Darjeeling Zoo, famous for its rareness of having endangered species like Red Pandas, Leopards, and Himalayan Salamanders. It is also the home of 200 varieties of Oak and Alder. The entry fee for Indians and the residents of SAARC is INR 20. For Foreigners, it is INR 50. There are additional charges for carrying a camera.
Visiting hours are 8.30 AM to 4.30 PM during summers, and during winters, it is 8.30 AM to 4 PM. On Thursdays, the park remains closed.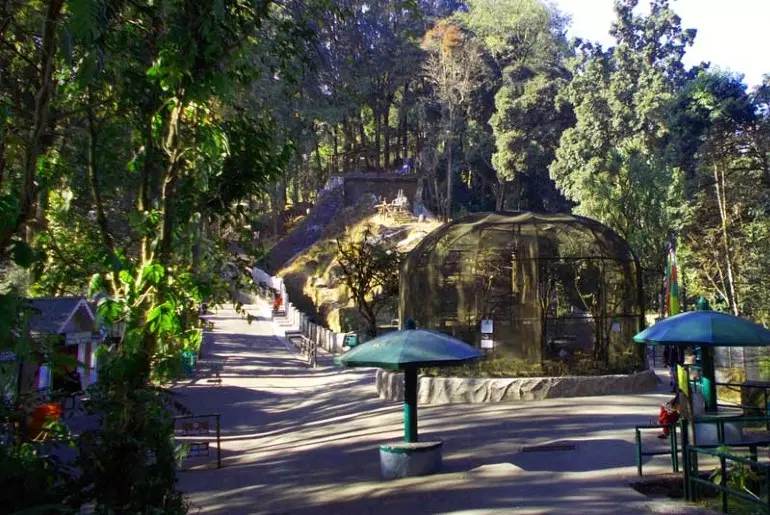 HAPPY VALLEY TEA ESTATE: LOCATED 2.0 KM FROM DARJEELING
Voyage to Darjeeling is incomplete without a visit to this Tea Estate. We all know how much Darjeeling is famous for its Tea. Located in Lebong Cart Road, Chauk Bazaar, the Happy Valley Tea Estate is one of the most well-known places to visit in Darjeeling that will leave you awe-struck. It was established in 1854 by Britishers. It has the maximum number of Tea factories. The estate is situated at 6,800 feet high and spread across 437 acres.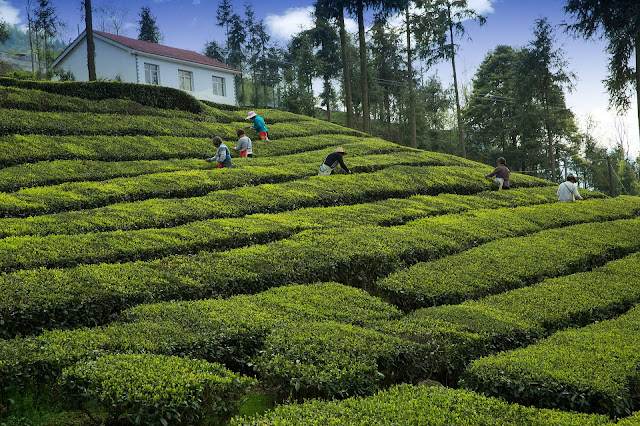 A SMALL FOOD TRIP OF DARJEELING:
Thukpa: A hot soupy noodle with the goodness of vegetables, meat and spices. It's healthy and will keep you warm.
Momo: We all know why it's a must-have.
Naga-Cuisine: It includes smoked chicken or pork with rice.
Kwati: It is a mixed soup made by boiling nine types of sprouted beans.
Darjeeling Tea: Complete your journey with a warm and delectable cup of Darjeeling Tea.